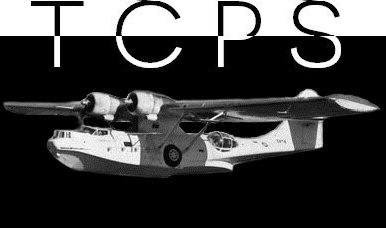 THE CATALINA PRESERVATION SOCIETYTM

Much has been written on the grand old PBY, from the romantic to the sometimes truly exasperating. A true Love – Hate relationship.
To some who flew her she was a cranky ole cuss, the type that stories and legends are made of. In the air she had a mind of her own, on the ramp she puked oil on any unsuspecting soul who ventured under the engine.
But for others…. well, she is a thing of beauty with all the curves in just the right places. She has all the character, traits and charm of a villain, a vixen and a hero.
This over-built, ungainly, slow flying boat was arguably to become the most versatile aircraft of WWII as pilots exploited her shortcoming converting them into her strengths.
Her design was a revolutionary marvel in water boat concepts, a marked departure from the Bi-wing design of the day.

Designed as a long range bomber by Consolidated Aircraft in 1935, her role was quickly expanded from a Convoy Escort to a feared Submarine hunter, a Coastal patrol boat, and an invisible Night bomber and excelled at Search and Rescue of downed pilots.
PBY 11024 began her life in 1943 fresh off the assembly line in Cartierville Quebec. Built for the Royal Canadian Air Force she was taken on strength in December, 1943 by Western Air Command arriving at #3 Operational Training Unit RCAF Station Pat Bay on Vancouver Island February, 1944.
Over the next 61 years she was to undergo many modifications preparing for her multi-role Military and Civilian career. Crisscrossing the skies of Canada, from Patricia Bay on Vancouver Island to Trenton, Ottawa and Torbay, Newfoundland her job was to train pilots, escort convoys, fly dignitaries and rescue downed pilots until stricken from military service in 1961. She was to serve another 43 years in civilian life protecting Canada from the devastation of forest fires as a water bomber.
Retired from active work in 2004 she is one of approximately 15 airworthy PBY remaining in the world. In this age of supersonic jet fighters and space exploration it is a tribute that this 1943 PBY is still flying today.
Since 1939, the PBY has served the world in some of its most unfavorable conditions and along the way, managed not just to live history, but create it. 11024 stands today as a proud airworthy example of an era which helped define our country.
We are proud to have flown the PBY in this historical time, and folks at The Catalina Preservation Society have their hearts set on preserving the rich history and service of this remarkable aircraft.
---
WHO ARE WE
A group of like minded folks
We are a group of aviators and like minded folks who wish to recognize and preserve the PBY Heritage Worldwide. This small group of aviation enthusiasts formed THE CATALINA PRESERVATION SOCIETYTM in 2009 as the working arm of PBY C-FUAW
WHERE ARE WE
THE CATALINA PRESERVATION SOCIETYTM is located at the Victoria International Airport on Vancouver Island in British Columbia, Canada.
OUR GOAL
To purchase and preserve PBY CF-UAW in the fine airworthy condition it is in today.
OUR MISSION
We educate, inspire and promote
At The Catalina Preservation Society, we are passionate about our mission to "Educate, Inspire and Promote the PBY. We endeavour to stimulate the imagination of a broad audience by showcasing our PBY-5A C-FUAW to the public "Bringing Life to Yesterdays PBY"
OUR VISION
Inspire the imaginations of all by allowing everyone the opportunity to view, tour, crew or pilot PBY C-FUAW helping in its preservation for all to enjoy
---