TCPS
PBY CANSO 11024
Recognizing R.C.A.F. PBY Canso 11024 Pilots and Crew
Flight Lieutenant Lawrence Bell Pearson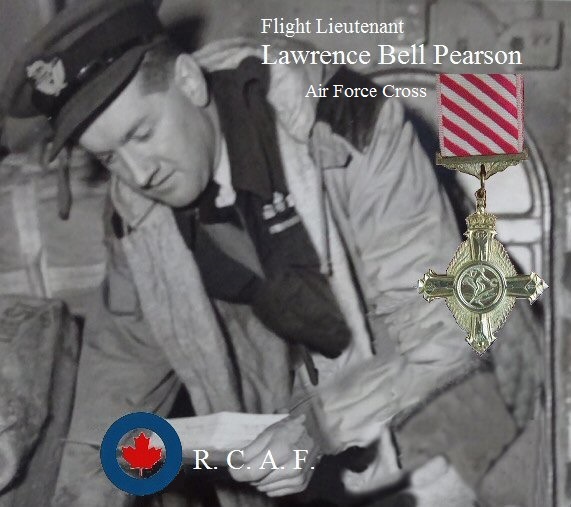 PEARSON, Flight Lieutenant Lawrence Bell Pearson (17479) – Air Force Cross – No.103 Rescue Unit – Awarded as per Canada Gazette dated 30 June 1951 and AFRO 379/51 dated 29 June 1951. Born in Woodstock, Ontario; joined RCAF 1941; served in Canada and completed a tour with No.423 Squadron overseas. Has since served at Belleville, Aylmer, Lachine, Summerside and Toronto.
This officer, the captain of a Canso (11041) of No.103 Rescue Unit,
successfully completed a mercy mission of 18/19 June 1950, that was an outstanding example of practical flying skill and personal courage in the face of

extremely hazardous weather conditions in the air and adverse landing and take-off areas on the ground.
Flying from Greenwood, Nova Scotia, via Goose Bay and Fort Chimo, the weather encountered required the pilot to rely solely on instruments as radio aids were useless due to precipitation static, and severe carburettor icing caused the engines to cut out intermittently.
On discovering that the designated landing area at Payne Bay on the western shores of Ungava Bay was frozen solid far out to sea, he proceeded a further 60 miles north to Emilik where the mouth of a shifting running river was practically clear of ice, and offered a possible landing space.
Although he realized that an attempted landing might end in disaster because the area of open water was extremely small and entirely surrounded by ice, remembering that a boy's life entirely depended upon his ability to set the Canso down on the water and take it off again, Flying Officer Pearson decided to take the risk.more