Black Cats
U.S. Navy PBY Catalina's fighting in the Pacific during World War II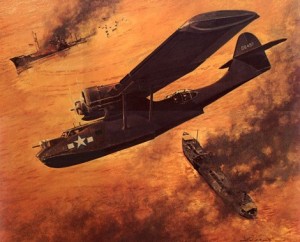 A handful of PBY-5A Catalina's equipped with early ASVradar had reached the Pacific by August 1942 and by December 1942, the USAF deployed a full squadron of PBY-5As to operate at night in the Solomon Islands. This "Black Cat" squadron (VP-11) painted its aircraft black, except for a squadron insignia that started out as a basic cat outline. Eyes were added after the second mission, teeth and whiskers after the third, and, allegedly, "anatomical insignia of a more personal nature" after the fourth mission (Morison 1949). The Black Cats participated in search, strike, and gunfire spotting missions, taking off at about 2230 each night and returning after daybreak.
---
Sub Hunter
---
Royal Canadian Air Force PBY Catalina Squadrons
Article XV squadrons serving under direct command and control of the RAF, with RAF owned aircraft.
Operational Squadrons of the Home War Establishment (HWE) (Based in Canada)
---
Canadian Vickers Canso
The production of the Canadian Vickers Canso started in St-Hubert, Quebec on July 25, 1941. The initial contract was for 39 Cansos. Because of limited space at St-Hubert the first 25 Cansos were built in hangars that Hampden bombers were made.
The US government then awarded Canadian Vickers a contract to build 230 OA-10A's for the US Army so to speed up production the Canadian government decided to build a new plant at Cartierville, Quebec. The new plant was 1.6-million-sq-ft that the government own and was ran by Canadian Vickers.
In total 369 Cansos & OA-10A's (CV-240 to CV-608) was built by Canadian Vickers. Today the flying boat is a rare piece of aviation history. I'm a AME in Canada and I fix Cansos and other Propliner's for a living. I learned my skills from my father that is also an AME and he learned from his father.
The Canso is still active today because of people like us and other people with the skills to fix and fly them. This group is for sharing information, news, history, stories, advertising, and pictures about the Canso. Everyone is welcome that is interested in this great flying boat.
---
Boeing Sea Island
In 1939 Boeing of Canada, headquartered at Vancouver, B.C., built a huge manufacturing factory on Sea Island beside the middle arm of the Fraser River to build aircraft for the war effort.  The Boeing Aircraft Company's Sea Island, BC plant was well known during WWll for building PBY Catalina Aircraft for off-shore air patrols and the mid section of the B-29.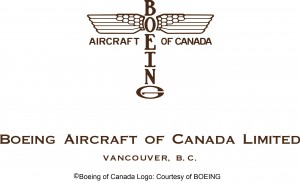 Boeing Aircraft of Canada built 362 PBY flying boats and amphibians designed by Consolidated Aircraft of San Diego and 16 British-designed Blackburn Shark torpedo aircraft for the Royal Canadian Air Force. The RCAF called the PBY's Cansos.
According to the book, Richmond Child of the Fraser, page 160; in 1939 the Sea Island Aircraft plant was the only plant in Canada to build the Catalina PBY Flying Boat. There was also an amphibious equivalent, the PBY-5A. More…
---
RAAF
The PBY Catalina was configured as a survey aircraft for aerial mining/mineral deposit surveying and had the callsign VH-EXG. I understand that at one time Qantas ran two PBY's, and Trans Australia Airlines and Ansett one each.
Originally 18 PBY's flew in Australia under the banner of the Royal Australian Air Force, growing to 168 by the end of World War 2. Catalina's continued to fly with the RAAF until 1952.
The Catalina was originally powered by two 1200 horsepower Pratt and Whitney WASP engines, giving the Catalina a service range of 4030 kilometres. One would not class the Catalina as a "pretty" aircraft but it had a certain grace as it approached Essendon for landings.
---
Russian Gubas
It is an odd thing that the first Catalina of a country that produced Catalinas herself was a second hand Catalina: In 1937, Dr. Richard Archbold purchased Consolidated's first commercial PBY.
A modified PBY-1 licensed as a model 28-1. Guba, as Archbold called his aircraft, was to be used in support of a planned expedition to New Guinea. These plans were altered when Archbold was asked to aid in a mission of mercy.
The Soviet government had asked him to sell Guba to them for $230,000[8]. Archbold agreed and the Soviets used Guba to search for Sigismund Levanevsky and his crew who disappeared during a flight across the North Pole from the Soviet Union to Fairbanks.
The Canadian researcher Sir Hubert Wilkins flew Guba to Coppermine in Canada's Northwest Territory on the 23rd of August 1937 and made five search-trips during August and September. In the end of 1937, Guba, now registered L-2, was flown to New York, dismantled, and shipped by steamer to the Soviet Union.
From January to March 1938, Wilkins flew four more flights, two of which were during the polar night. Sadly Levanevsky and his crew were never found. More…
---
Search & Rescue
While the PBY Catalina distinguished itself in Anti Submarine Warfare, Maritime patrol and Black Cat night attack roles in both the Atlantic and Pacific Theaters they also proved very effective in search and rescue missions. Code-named "Dumbo" (by downed airmen) after the Disney cartoon character, small detachments (normally of three PBY's) routinely flew on stand-by near targeted combat areas. These missions were often very dangerous and courageously defended by escort fighters.
A PBY Catalina piloted by LCDR Adrian Marks (USN) rescued 56 sailors in high seas from the sunken USS Indianapolis during World War II. When there was no more room inside, the crew tied sailors to the wings. Catalina's continued to function in this capacity for decades after the end of the war. More…
One detachment based in the Solomon Islands rescued 161 airmen between January 1 and August 15, 1943, and successes increased steadily as equipment and tactics improved. More…
After WW II, the PBY continued its search and rescue service in many Central and South American countries, as well as in Denmark until the 1970's and The Republic of China Air Force to 1954. More…
The Swedish Air Force PBY Catalina SAR aircraft sinking as the crew of five rows in two rubber dingies toward a West German freighter. More…