CONSOLIDATED PBY CATALINA HISTORY
The Consolidated PBY Catalina and Variants

A brief type history by David Legg
The PBY Catalina series of flying boats was originally conceived to meet a military requirement and its development built on Consolidated's experience with earlier flying boat designs. These earlier types had included the commercial Model 16 Commodore and the military Model 22 Ranger/P2Y series.
The Commodore was itself a development of the Model 9 Admiral, or XPY-1 to give it its US Navy designation. The XPY-1 was designed as a US Navy flying boat with the capability of linking the United States West Coast with Hawaii. It was a metal twin-engined monoplane – the first US Navy monoplane seaplane – with a crew of five, the two pilots being in an exposed cockpit, the navigator in the bow, the radio operator in the centre section and the engineer aft. Armament consisted of one 0.30 in machine gun forward of the cockpit and two further 0.30 in guns in an open area further back along the upper hull. Power came from two 450 hp Pratt & Whitney R-1340-38 Wasp engines, although, later, a third engine was installed above the wing. The XPY-1 first flew on 10th January 1929, from Anacostia in Maryland, but it was destined to be a limited edition of one, the Navy ordering the cheaper Martin XP2M and P3M flying boat instead. The solitary Admiral was given the military serial A-8011.
Although the Admiral was not a success in terms of military orders, it did give rise to interest from the commercial sector, and this led to the Consolidated Model 16, or Commodore. Design changes included more powerful engines in the shape of two Pratt & Whitney R-1860 Hornets Bs of 575 hp each and a hull that could accommodate up to 32 passengers in some luxury. Initially, it had been hoped that the new type would be sold to the Detroit and Cleveland Navigation Company, which had plans to use the Commodore between destinations around Lake Erie, and to Pan American Airways, but in the event no orders materialised. However, orders did come from Tri-Motor Safety Airways, which wanted to use the type to link North and South America. The prototype first flew on 28th September 1929, and in due course fourteen were built at the Consolidated factory at Buffalo, New York. All those built operated with the launch customer, which, by the time of the first delivery, had been renamed New York, Rio & Buenos Aires Line, or NYRBA, only to be merged with Pan American in September 1930. Production of the Commodore ceased in the following November.
Copyright © David Legg May 2014 Site Design & Hosting by Mike Pinder 2012 ©
Variants:
---
Model 28 – Base Prototype Model Designation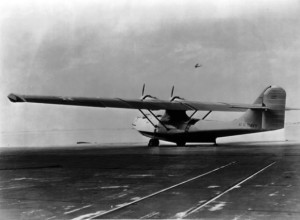 XPY-1 Admiral
The Consolidated XPY-1 Admiral, was a modern design for the day, and,  the beginning of flying Boat designs that would eventually lead to the PBY, arguably the most successful fly boat ever built.
---
XP3Y-1 – Prototype Model Designation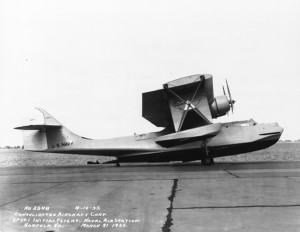 ---
PBY-1 – Model 28-1
September 1936 – June 1937
Initial Production Model featuring improved and more powerful R-1830-64 900hp engines; 60 produced.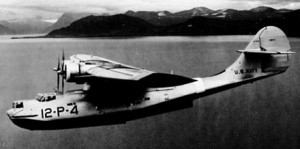 ---
PBY-2 – Model 28-2
May 1937 – February 1938
Modified United States Navy Model with alterations to the empennage and hull reinforcements:  50 produced

---
PBY-3 – Model 28-3
Fitted with R-1830-66 1,000hp engines, 66 produced.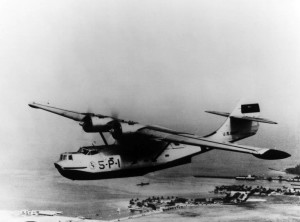 ---
PBY-4 – Model 28-4
Integrated the recognizable fuselage "blister" gun positions; name "Catalina" after the Catalina Island off the San Diego Coast is utilized for the series; fitted with R-1830-72 1,050hp radial engines, 33 produced.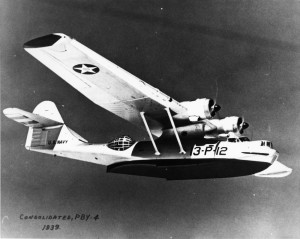 ---
PBY-5 – Model 28-5
R-1830-82 or R-1830-92 radial engines capable of 1,200hp; export version for UK, Dutch East Indies, Australia and Canada; Tricycle landing gear testing implemented and integrated to final PBY-5 production models making the system completely amphibious; general improvements throughout.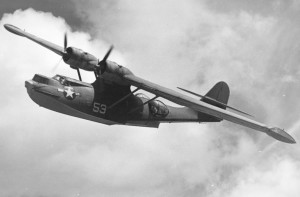 XPBY – 5A
One PBY-4 converted into an amphibian and first flown in November 1939.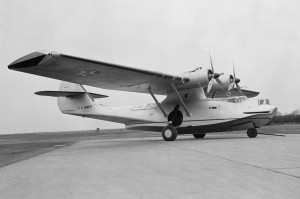 ---
PBY-5A – Model 28 – 5A
Full Amphibious Variant with two 1,200 hp R-1830-92 engines, first 124 had one 0.3in bow gun, the remainder had two bow guns; 803 built including diversions to the United States Army Air Corps, the RAF (as the Catalina IIIA) and one to the United States Coast Guard:  761 produced.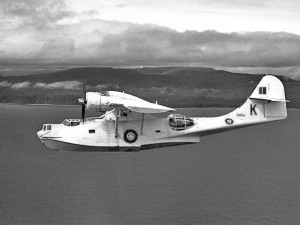 ---
PBY-5B – Improved Model of the 5A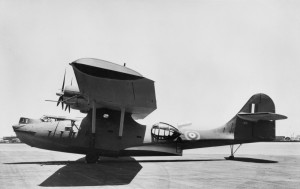 ---
Mk I – RAF Coastal Command Designation of the PBY-5 model series.
---
PBY-5 – PBY-5A Canso – Canadian designation from December 1941 of the PBY model series as produced by Canadian Vickers in Cartierville Quebec and Boeing of Canada in Vancouver BC.
---
PBN-1 "Nomad" – Naval Aircraft Factory model with taller fin and rudder systems; aerodynamic and hydrodynamic improvements to airframe.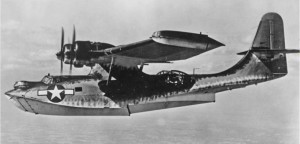 ---
PBY-6A – PBY with search radar installed.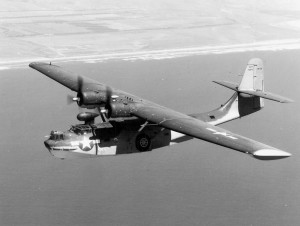 ---
OA-10B – United States Air Force Designation of the PBY-6A.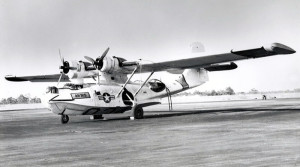 ---
GST – Model Designation of PBY series as produced by the USSR.